Sister Lucille Wants to Play
By Carol Kokes Babcock, Blues Lovers Calendar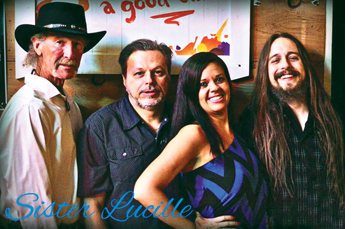 Sister Lucille made their debut in Kansas City at the Hideout Bar & Grill on a cool April night. This hot blues band from Springfield, Missouri had dancers on their feet all night. Whether swinging or a slow sway, their music certainly moved us. Sister Lucille brought more than talent to the stage; Jamie Holdren played with dynamic energy and Kim Dill's strong bluesy voice delivered chills.
When Kim, Jamie, and Terry sat with us for a few minutes, I had a chance to ask them what sets Sister Lucille apart, Kim answered, "I just want you to feel what I've lived." And after just a few songs, I knew she felt what I've lived. The audience packing Hideout that lucky night really connected with their music.
The smooth blending of Kim and Jamie's voices and comfortable engaging stage presence is the result of nearly two decades of performing together.  If you like Wanda Jackson's voice and Etta James style, you'll love Kim Dill's sound and heart. Jamie's dexterity on songs like Fast Train to Memphis satisfied like Stevie Ray Vaughn – and he played like that all evening. Terry Simmons, Kim's dad, holds a beautiful bass line flawlessly. Their drummer, Kevin Lyons, couldn't make that weekend so Kansas City's Mike Kovacs smoothly filled in. Jamie informed us Kevin Lyons is one of the best drummers in southwest Missouri. He played with Don Shipps, a Springfield blues legend who tragically died in a house fire, also with Bobby Vinton and countless other Branson stars.
This is a family band and they clearly enjoy playing together. When Kim belts out a song, Jamie and Terry support her well. When Jamie takes the lead, Kim plays into his performance with a loving sparkle.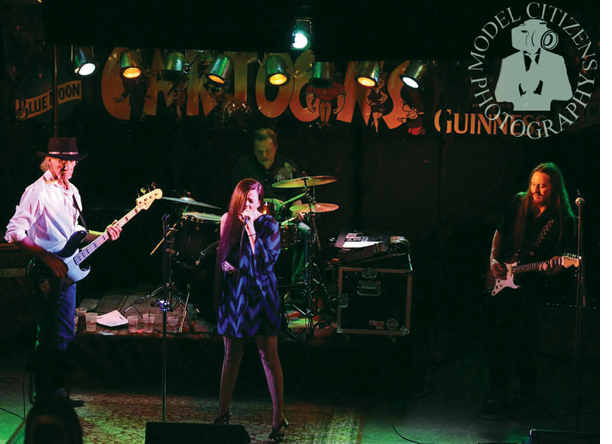 Though they played country well for many years, they were drawn to Memphis the first time just to explore Blues at its source. That trip was the first of countless that transformed their repertoire and brought them "home" to the blues. The band's name came from the sense of kinship – sisterhood, if you will – with B.B.King's guitar, Lucille, that they adopted from Memphis.
Sister Lucille's song set developed from their Memphis experience and offer the audience tidbits of source or story with the songs. Among others during the full three-hour gig were What You Want me to Do, Mean, Mean Man, I'd Rather go Blind – Etta James, He's So Fine, You Can Have my Husband, Shake Your Money Maker, and Down Home Blues. They also brought a tasteful few of their country tunes to the playlist. For example, Terry Simmons led the vocals on Have You Ever Seen the Rain so it felt like a blues tune (and maybe it was in a previous era).
If you enjoy the sounds of the Tedeschi Trucks Band, the distinctive voice of Wanda Jackson but sung in the style of Etta James, you'll love this band. They look young, but are deeply experienced musicians focused on moving the Memphis blues through the hearts and souls of listening audiences.
Sister Lucille won the Ozark Regional IBC competition last year and our Kansas City blues venues would do well to engage this dynamic group often in 2014. Sister Lucille is ready for Kansas City; c'mon Kansas City, let's welcome Sister Lucille!