NWN Radio Reviews Alive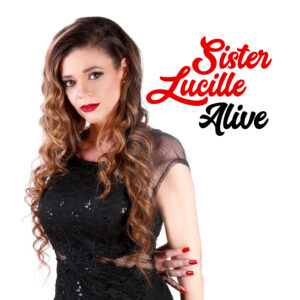 Before I begin the review of this album, I just want to take the time to talk a little bit about the two members of Sister Lucille whom I have come to know a bit, as well as admire and respect. That would be vocalist Kimberly "Sista Lucille" Dill and guitarist "Jammin'" Jamie Holdren.
They are husband and wife and they have been through life's ups and downs, and have truly dealt with a lot over the years. From Kimberly's illness which took its toll on her, and thankfully she has made a wonderful recovery from, to the passing of her father, Terry Simmons, who was an amazing man. To say that Kimberly and Jamie know the Blues would be a huge understatement.
Maybe this is why the bands new album, "Alive", is so steeped in the Blues. But this is more than just any blues album. It's a powerhouse of songs so full of heart and so driven, and I believe that drive is what makes "Alive" so special in more ways than one! And definitely an album that I know Terry, God rest his soul, is so very proud of.
The band is rounded out by drummer Kevin Lyons and bassist Eric Guinn. These two musically bring it on every level and make up the thunderous rhythm section of Sister Lucille. I also want to mention that this new album has some absolutely stellar backing vocals by Reba Russell, someone who is no stranger to the Memphis music scene, having fronted her own band, as well as bands like Portrait, and Visions.
I am going to deviate from the norm here with Sister Lucille "Alive". I don't usually review an album track by track, but this time I feel it's necessary to do so. It's just that amazing, and quite literally the album of 2019 for me. Everything, from the smoldering cover art featuring the beautiful Kimberly to all of the music contained on the CD, is just so perfect in every way! So, let's begin, shall we?
"Won't Give It" sets the tone for this amazing album with its infectious grooves and smoking guitar playing, along with the delicious, sultry soul of Kimberly's sexy vocals. This is the way to begin an album of this magnitude! And it just gets better!
"Alive" is the title track of Sister Lucille's stellar album release, and it's truly a testament to the bands songwriting skills. This song is brimming with heart and soul, and if you've never heard of this band before, one listen to this song and they will be at the top of your playlist for years to come!
"See My Baby" kicks off with Southern Rock slide guitar at the beginning and just never let's up! Jammin' Jamie's vocals and slide guitar work are a force to be reckoned with and the song is truly enhanced by the backing vocals of the incomparable Kimberly Dill. This is definitely a Rocker!
"Devil's Eyes" is one of the best Flamenco laden songs ever written. It pulls you in with its Caribbean vibe and the steamy vocals will leave you breathless! Think sun, sand, margaritas, and a raven haired beauty with red lips. Her blues eyes sparkling with a devilish gleam. A sort of midnight mistress, if you will. That sets the brushstroke for this amazing song. The guitar solo on this one is freaking epic and Kimberly's sexy vocals paint the portrait, pulling you in deep within the mystery. Absolutely awesome!
"Wanna Love You" has a vibe about it that just won't let up! Some of the best funk wah-wah guitar ever recorded and a stellar bass line is behind the vibe while the vocals dominate throughout. It's a steaming hot song with one hell of a climax!
"99 Pounds" of soul and 100% of one of the most awesome songs you'll ever hear! This song has it all! Kick ass guitar, vocals, horns, a saxophone solo that reaches the stratosphere, keyboards that will take you to church, a rhythm section that thunders throughout and absolutely killer guitar solos! This is one song you will always remember!
"Respect Your Woman" is all about the Blues and Sister Lucille knows how to play the Blues and Memphis soul! The soulful harmonica wails on this song, and Jamie's guitar is fully loaded and firing at will! This one takes you back to a smoky Blues Bar. Kimberly's vocals truly bring this song home! One of the best Blues songs you'll ever hear!
"Fussin' And Fighting" is a song that everyone should hear, take the words to heart, and live by them! It's about the world we live in today and Jamie brings it home with not only the lyrical content, but with his vocals and guitar playing. As a guitarist, he is one of the cream of the crop and it really shows on this song! Sister Lucille is a band to be reckoned with!
"Think About You" is an uptempo song that features one of the bands long time friends, the infamous Mark "Muleman" Massey on co-lead vocals with Kimberly. What an amazing performance and an absolutely beautiful song! This one will take you back to those fond memories of the people that you love with its R&B feel.
"Woman" is a grinding Blues song that should empower every W-O-M-A-N! Kimberly Dill proves why she is THE BEST female vocalist in the music business today! And behind this beautiful woman who harbors an angelic voice of sultry, sensual soul is a band that is one of the best around! This song is a powerful statement!
"Lost" is about making the world a better place. It is the last song on this masterpiece of an album, "Alive", and it speaks volumes! In the world we live in today with all of the senseless violence and deaths, this is a song to hold onto! It's a spiritually moving song that pulls at the heartstrings and leaves the listener with their fists in the air, impassioned to strive for a better world! Sister Lucille makes this world a better place with their existence in the world of music!
What more can I say? The music speaks for itself. The heart and soul of "Alive" soars and reaches to the Heavens. It's Blues Rock at its absolute best and this album is a must have for everyone!